"Houille Blanche" Primary School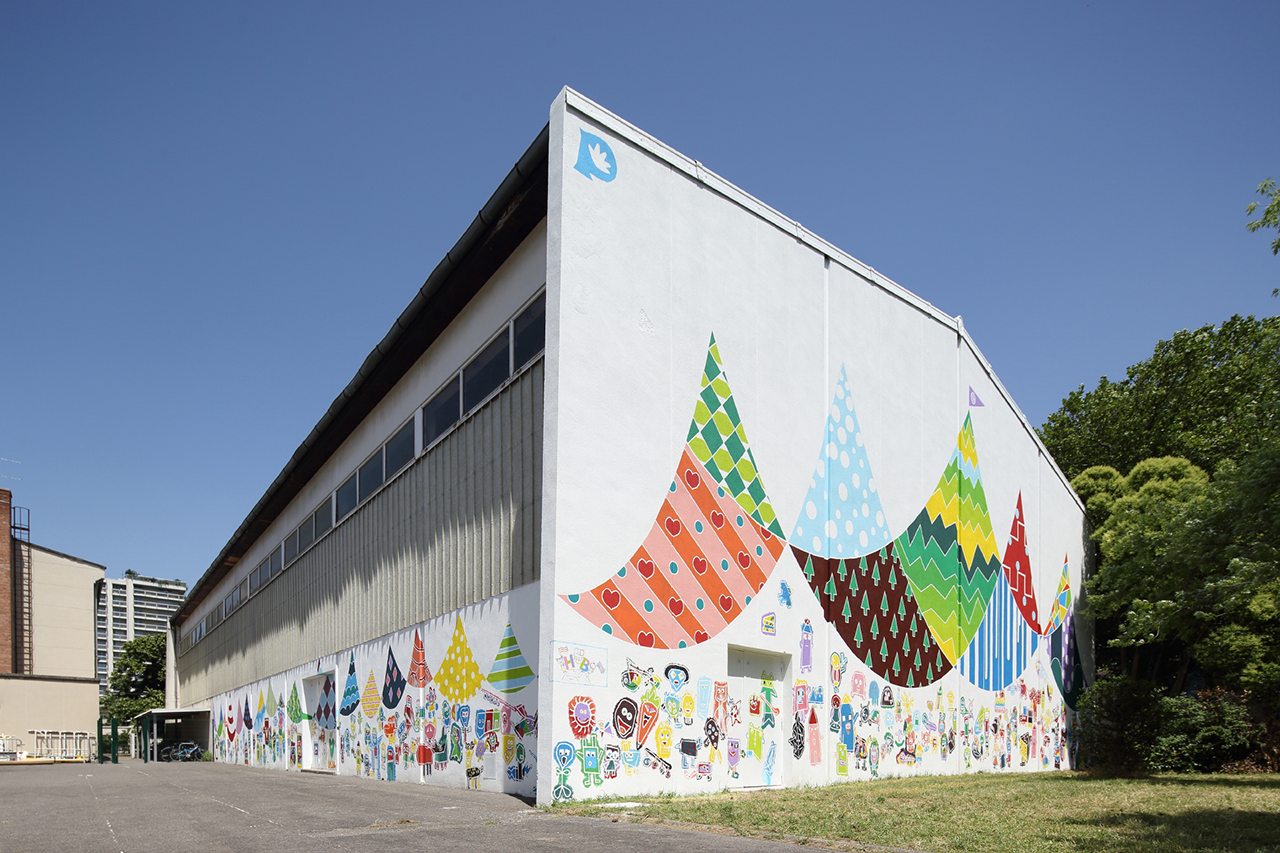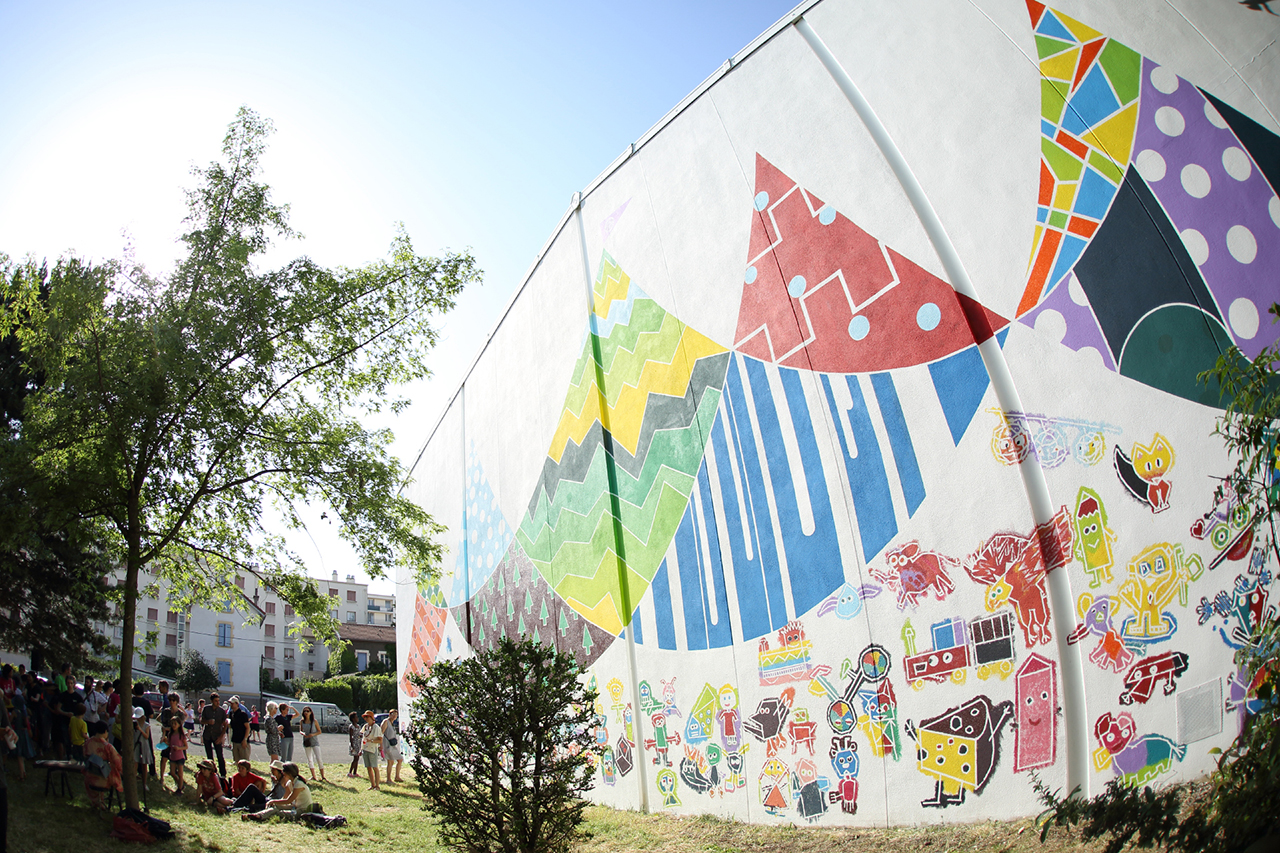 Gymnasium
South Wall 22m x 10m
West Wall 28m x 3 m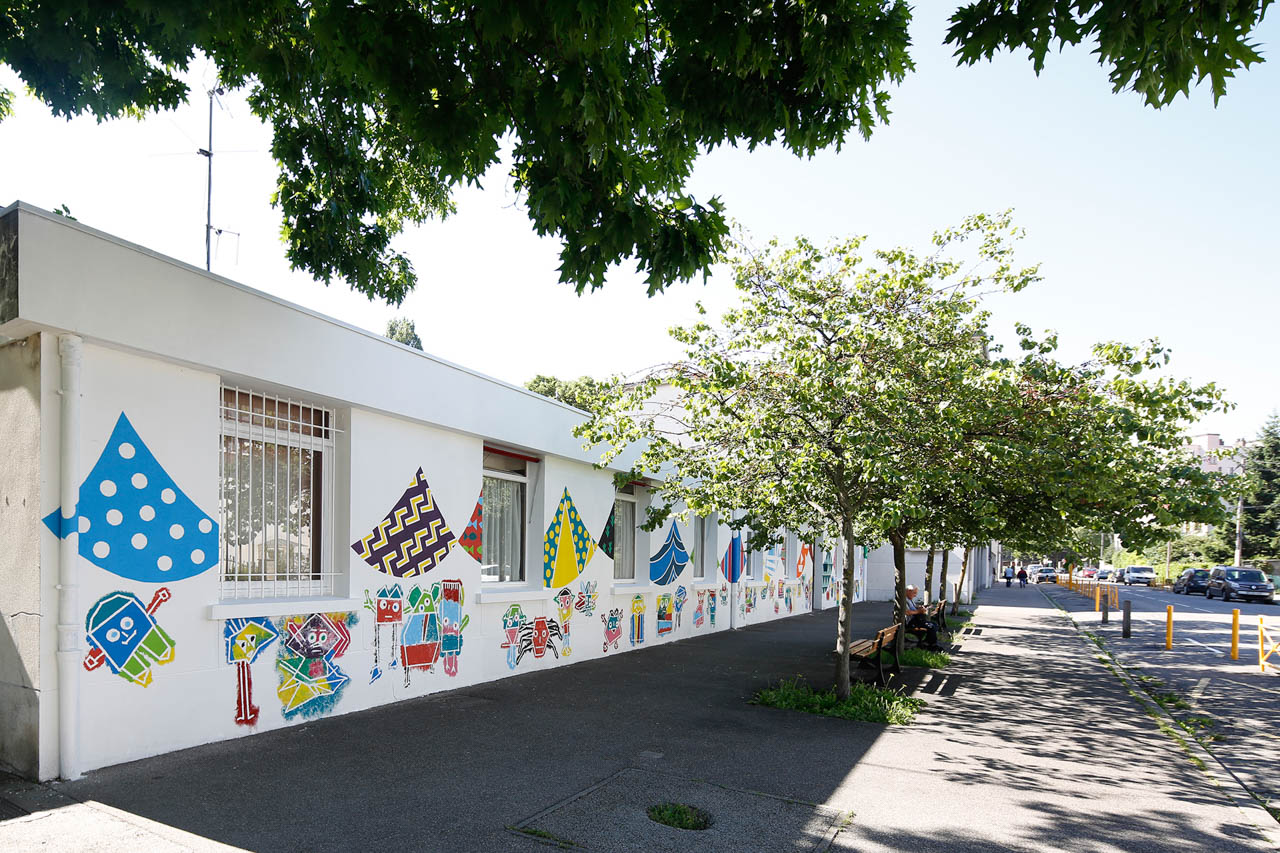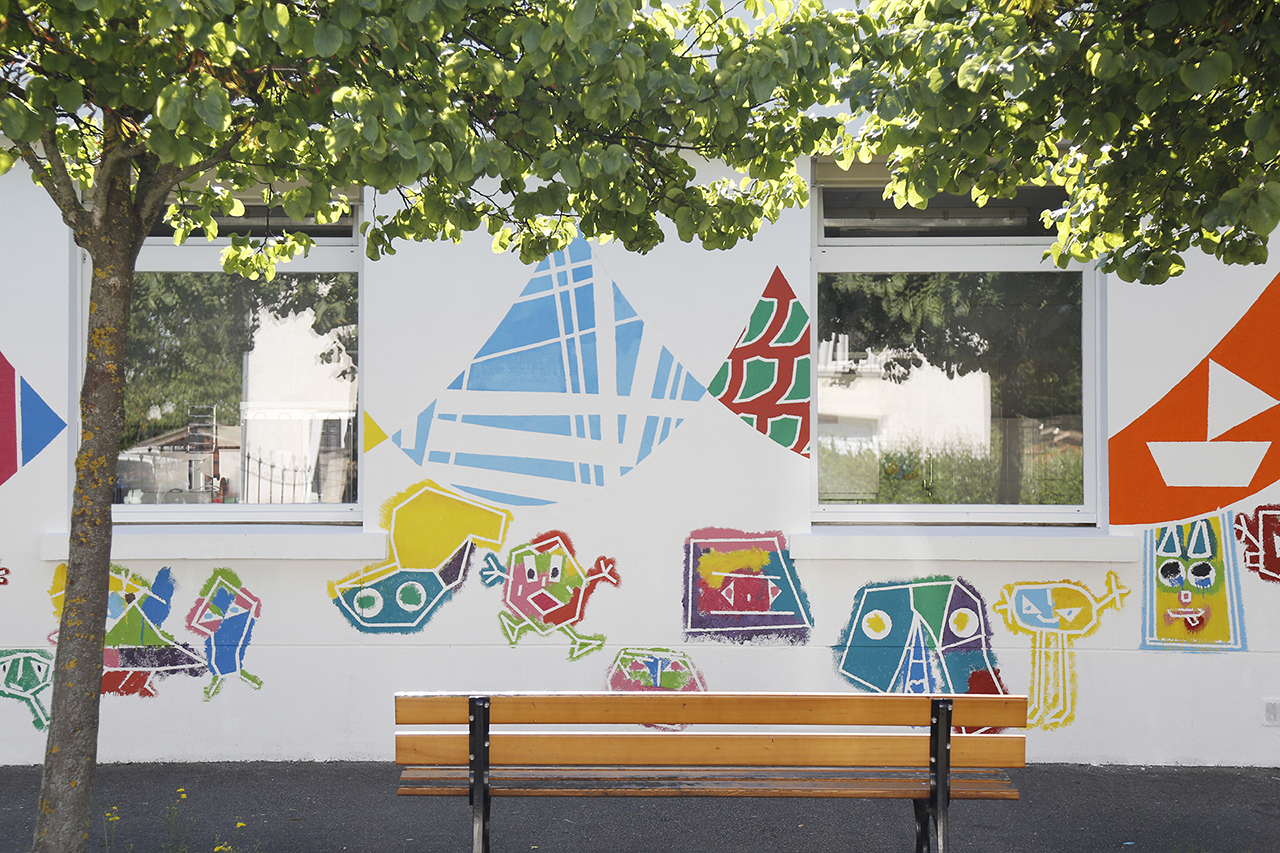 Mural Making Workshop
Collaborating on a challenge together, wonderful feeling echoes!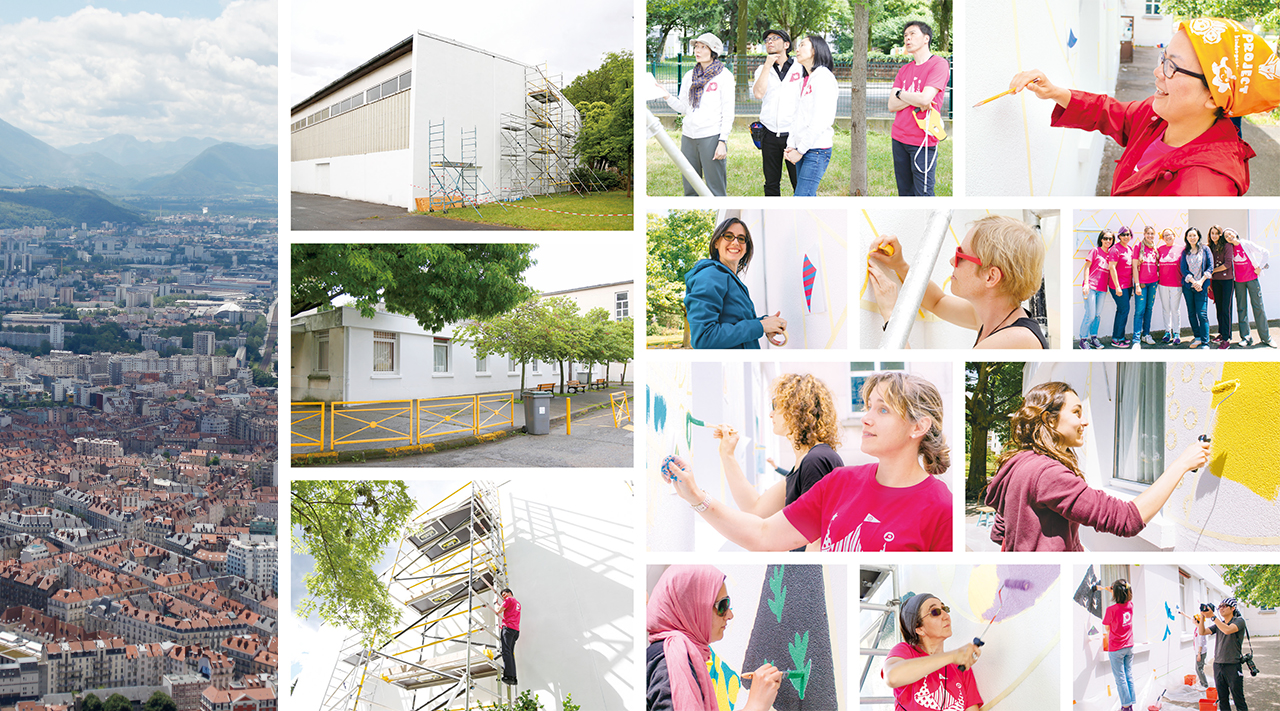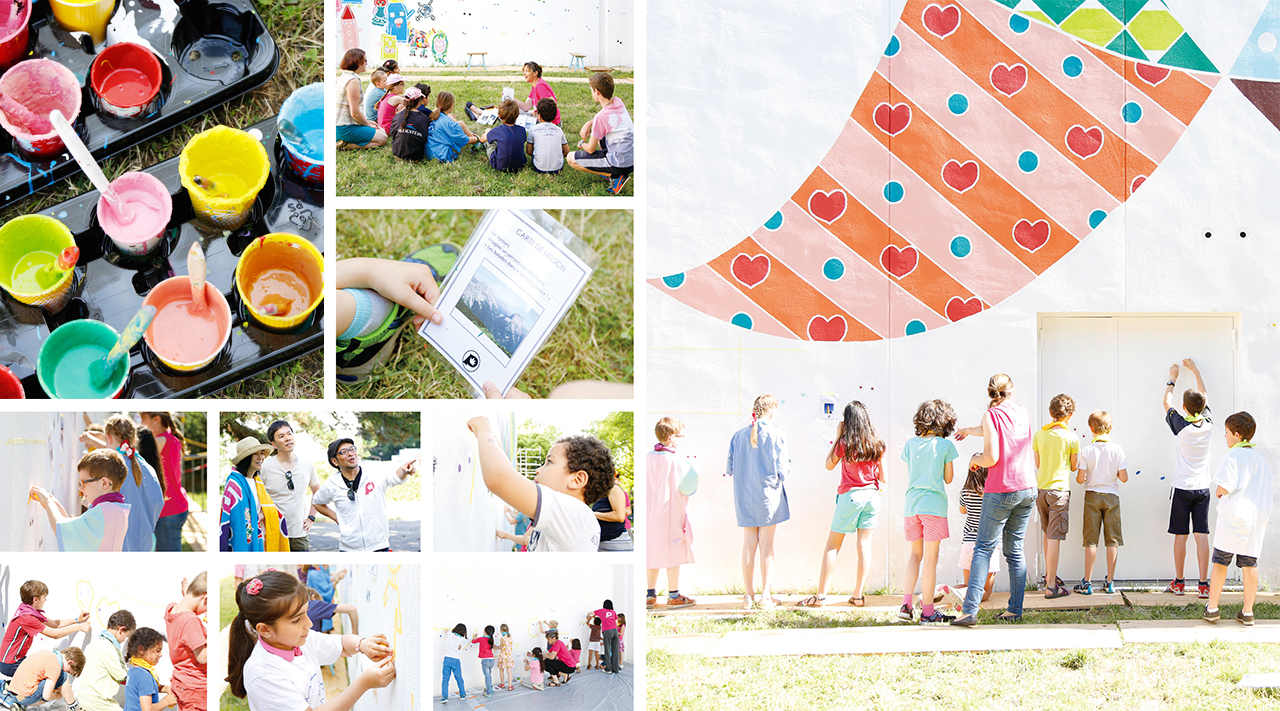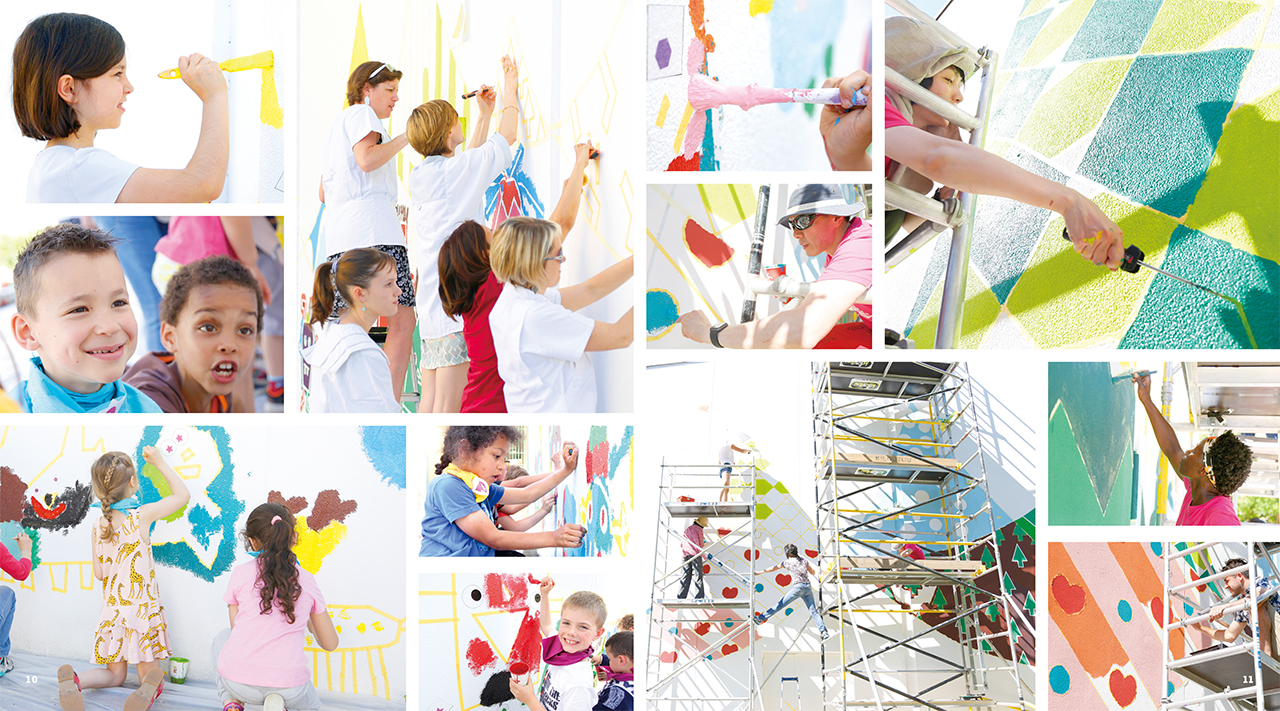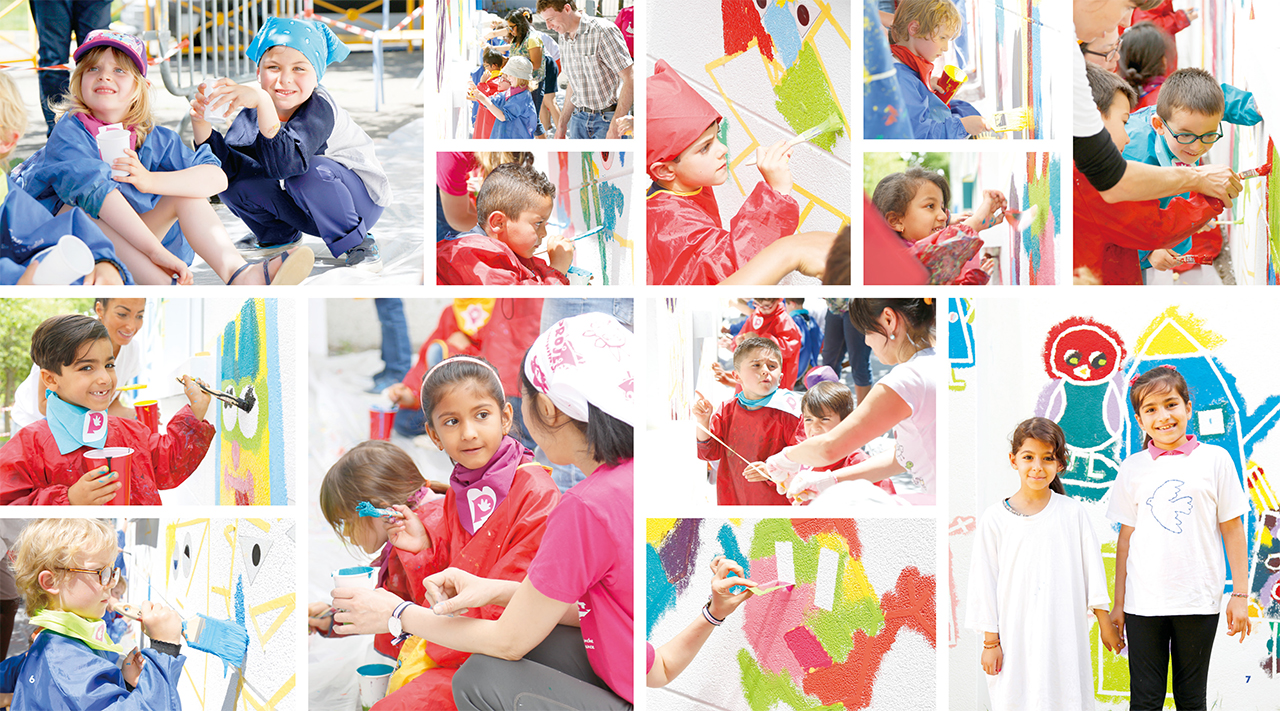 Mural Making Workshop – Video
Let your imagination fly!
" I think that it was really important to tell them "GO ahead! You can draw on the wall, feel free!" So it's something that is really creative for the kids, and I think it's very important for their future, to give them a taste of creativity and as they make these beautiful characters, I hope that will inspire them to create other things in their life. "
I'm in a dream...yes...I'm in a dream...I think this is the first time that I feel I can change the world
I love the mural painting. I found it beautiful but I also love the team work, I love all the persons with whom I work, all the people I met. More then Just a painting it is about working with other people, meeting other people and making new friends.
Teacher Monsieur Patrick BOURRU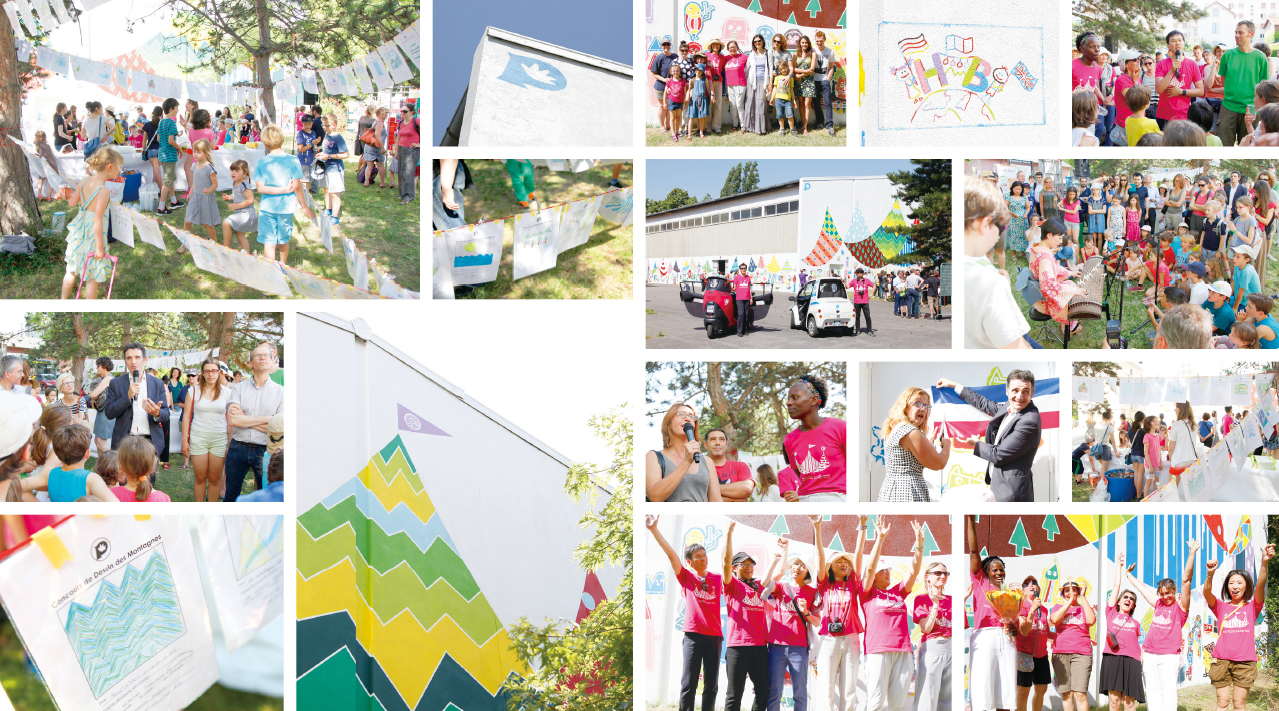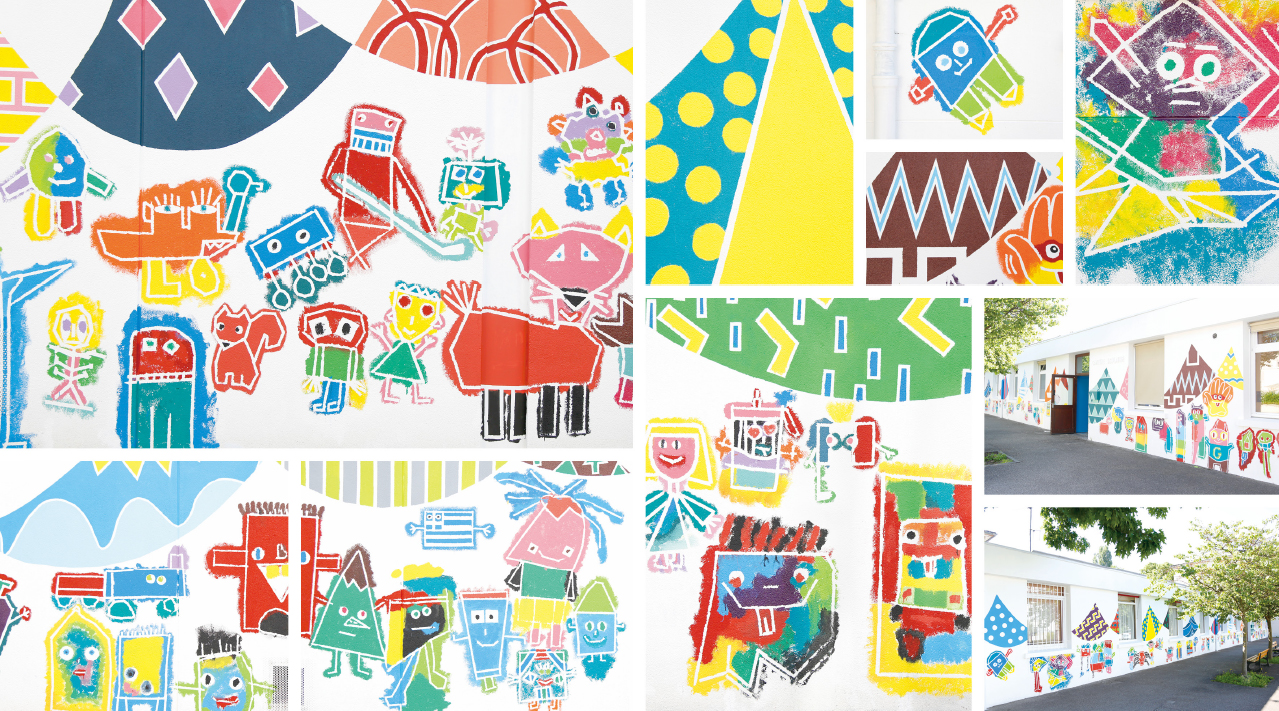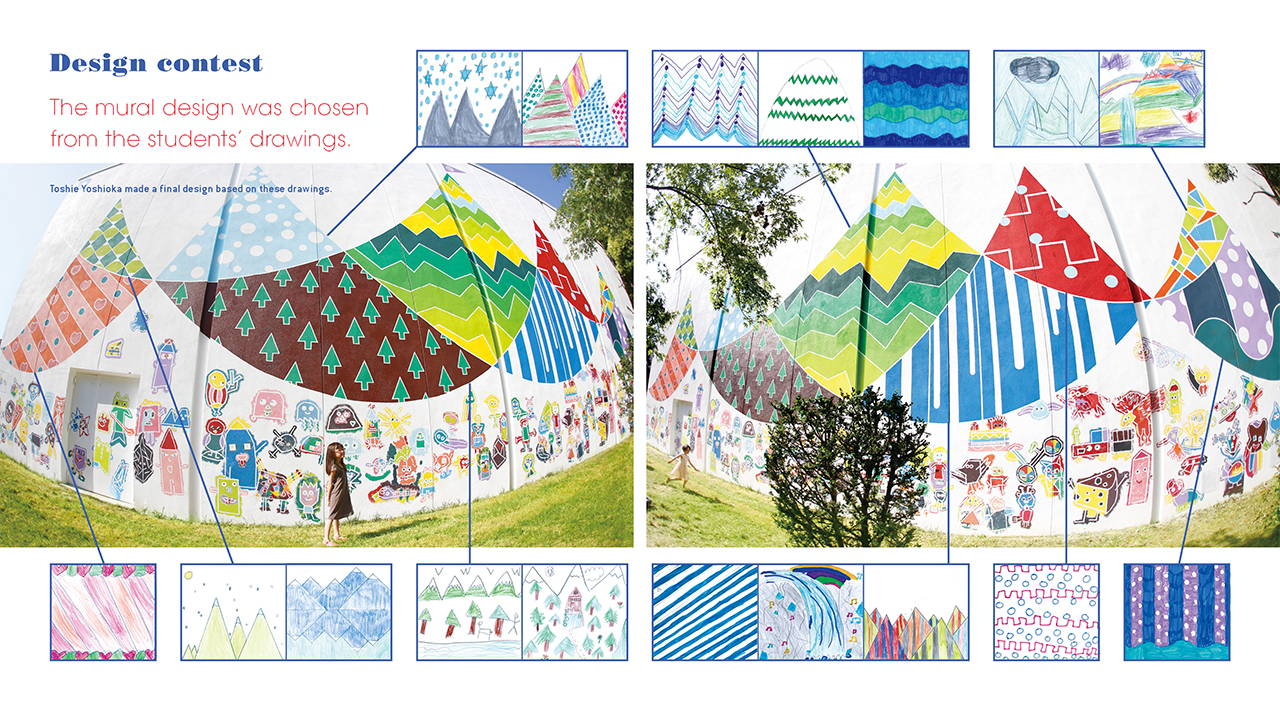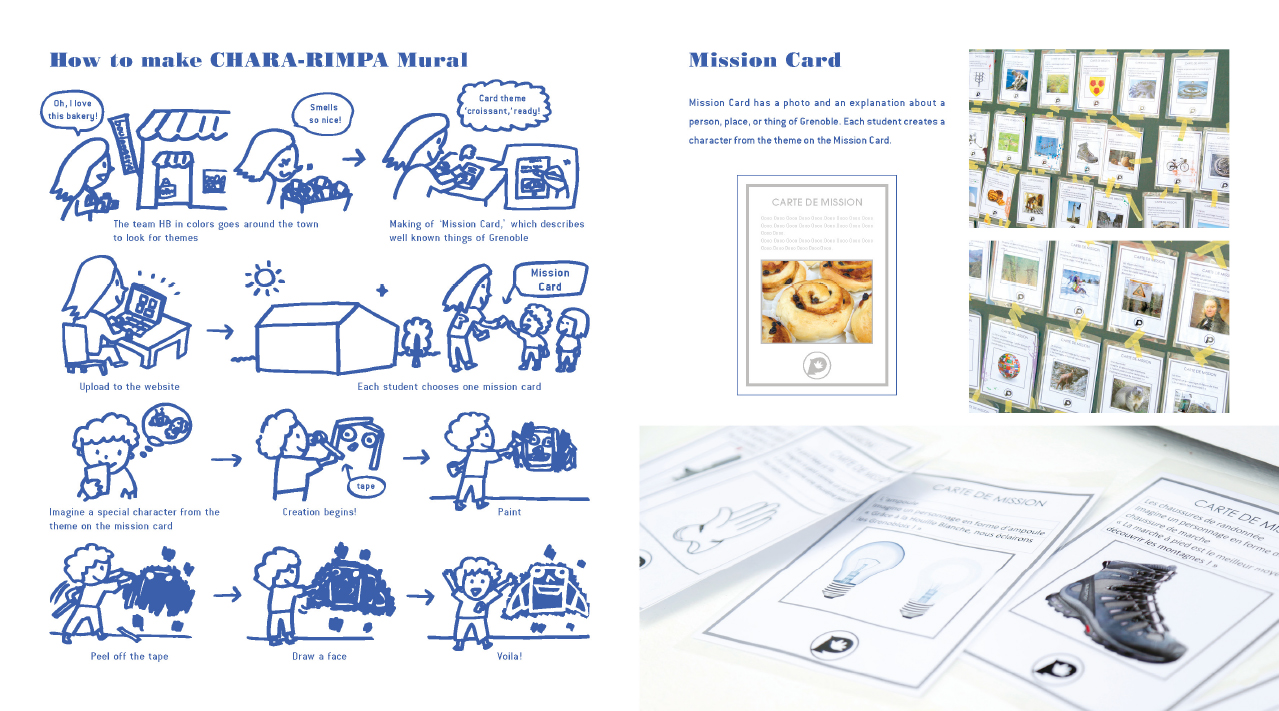 Eric Piolle
Grenoble Mayor
It was very strong emotional shock, because there is first an aesthetic value, a beautification of this wall that was very gloomy.And we feel immediately the richness of the work behind this, the involvement of the kids, the involvmeent of the artists, the cultural exchange, the demands, too, the demands for the cultural thoughts to accomplish this.It's awesome to see the mobilization of the parents, the school team, the children and the artists. It's great and beautiful project.
Nicole Rupin Triplett
La Houille Blanche en couleurs
When the NPO president Hao tole me about Chara Rimpa mural last spring and showed me the pictures, I was very impressed. Now that I understand the process more, I can see how original and innovative the mural making process is in allowing the children to really create the mural, not just color it in. My family moved to Grenoble in 2009. Grenoble is a small city, but very international. It is also in an incredible location, surrounded by the Alps. Any direction you turn, you are greeted by the Characters, the Vercors or the Belladonna, and the views from the mountains are breathtaking. There are endless opportunities to hike, sky, or do just about any outdoor activity you can imagine. I would be thrilled to share it with you and the Chara Rimpa team. We hope you will consider our school!!
Bernard Macret
"4th Adjoint au Maire, Slodarites Internationales
– 4th Deputy Mayor, International Solidarity"
Liam Kiely
Tokyo Electron Europe-French branch
Product Specialist Engineer
Yutaka Matsumoto
Toyota Motor Europe NV/SA – Paris Office
"Directeur de Projet / Project Director"
Cédric Woltèche
TT Network Integration Europe GmbH
Project Manager
Catherine – La Houille Blanche en couleurs
Anne-Françoise – La Houille Blanche en couleurs
Marilyne – La Houille Blanche en couleurs
Keiko – La Houille Blanche en couleurs
Jeanine – La Houille Blanche en couleurs
La Houille Blanche en couleurs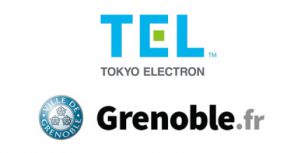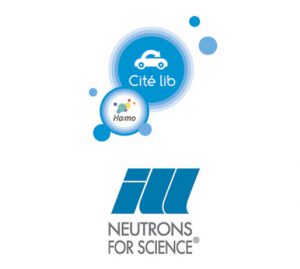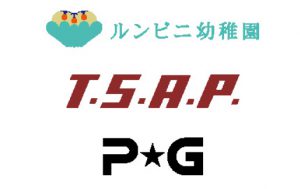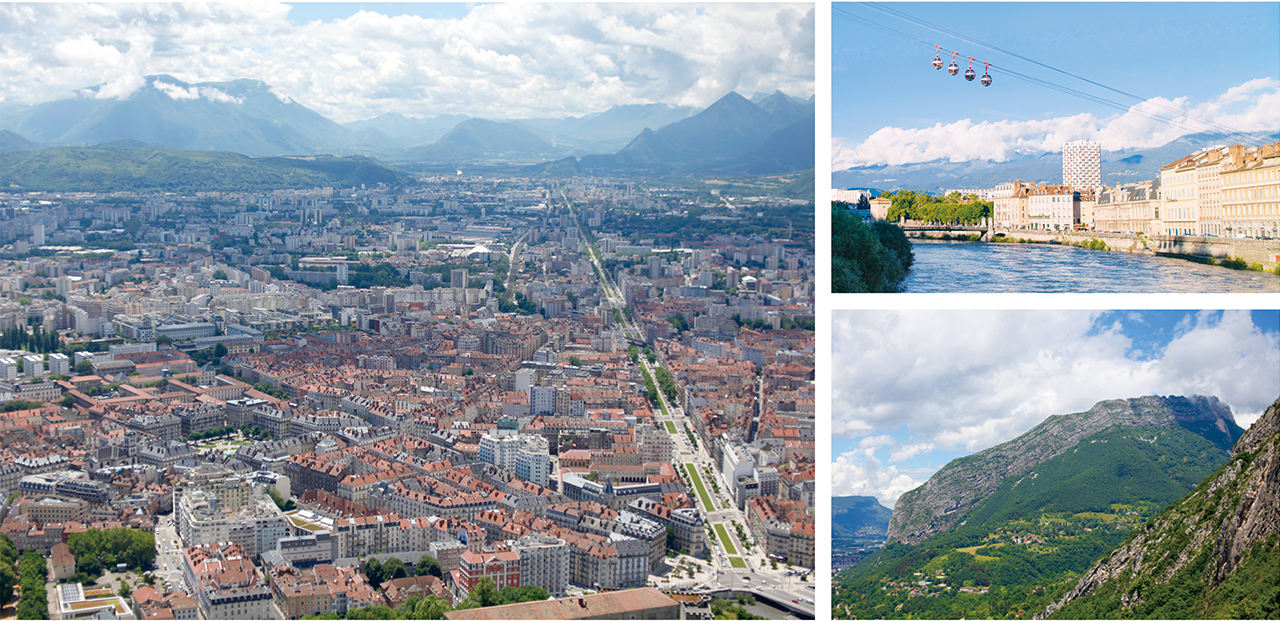 L'école de la houille blanche
7 Rue de la Houille Blanche, 38100 Grenoble, France
6/20 – 6/24, 2016